Skittles advertises that you should, "Taste the rainbow". I always thought that rainbows were bright and colorful, but tonight I found out that they can be dark and monochromatic. They can also taste pretty good.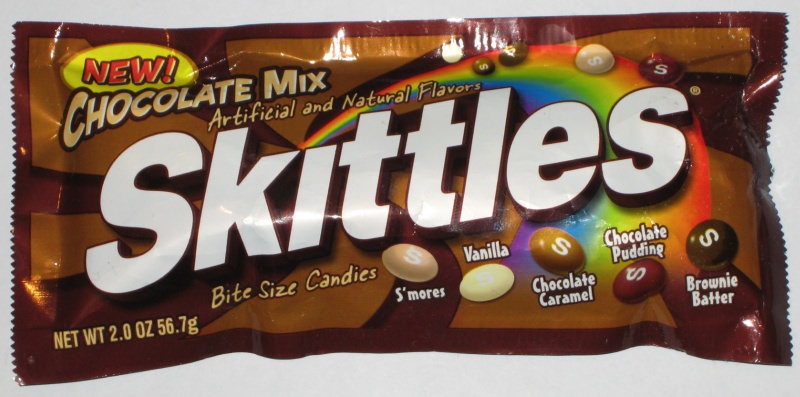 For whatever reason, I had a craving for chocolate tonight. I tried to fight it, but it was too strong, so at 10 p.m., I found myself on my way to the corner newsstand to get a Hershey bar. What I found there was something surprising…a package of Chocolate Mix Skittles. Since I had a craving for chocolate, and since I like Skittles, I decided to give it a try.
It's a normal sized pack and claims to have five flavors: S'mores, Vanilla, Chocolate Caramel, Chocolate Pudding, and Brownie Batter. First off, if it's a Chocolate Mix pack…so what exactly is Vanilla doing in there? What does Vanilla have to do with Chocolate, other than being it's arch nemesis? That aside, I found the taste of Brownie Batter and Chocolate Pudding to be quite good. Chocolate Caramel tasted just like the caramel square candies, but I couldn't detect any chocolate in it. Vanilla tasted like a bland vanilla, not the sharp vanilla that I love. As for S'mores…I really can't comment on it because I don't know what real s'mores taste like, but it was nice nonetheless. Their consistency is that of a regular pack of Skittles, and the flavors are released almost immediately upon biting into them. They are not even close to the amazing taste experience that can be found in a pack of Jelly Belly's, but in their defense, I don't think they're trying to compete with them.
Did they satisfy my chocolate craving? Nope, and that's why I thoroughly enjoyed the Hershey bar. Would I buy them again? Possibly. The problem I have is that when I bite into a Skittle I expect to be greeted by a rainbow of fruit flavor, and these are quite different; and that's most likely its true weakness.
Rating: 5.5/10