The Times' Mini Crosswords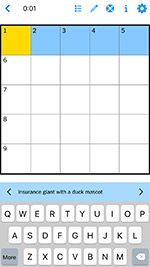 I enjoy doing crossword puzzles, and especially enjoy the daily mini crossword puzzles offered by the New York Times' iPhone app. The mini crossword is a 5x5 daily puzzle that is usually quickly dispatched, however, sometimes there's one word or two that I just can't get right away. Usually, abandoning the puzzle and coming back to it after a spell allows my mind to approach it fresh and I'm able to finish it up1. Once in a while, though, I just can't get it, and have to avail myself of a hint.
After a hundred puzzles or so, I began to wonder how I do on them, and of course, I started keeping track. Below are various statistics of the puzzles from August 21, 2014 though and including November 19, 20172.